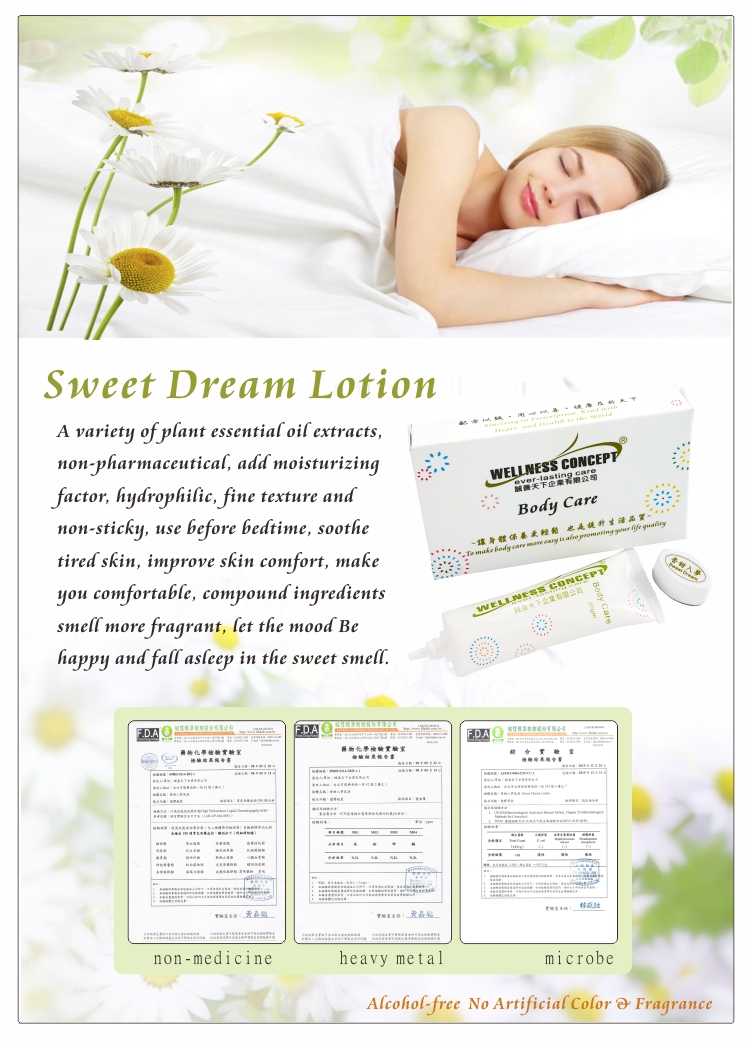 Name : Sweet Dream Lotion
‧Product function : let the mood Be happy and fall asleep in the sweet smell.

‧Main Ingredients : Chamomile Roman Oil, Vetiver Oil, Lavender Oil…

‧Quantity : 20gm

‧Suitable for : all skin types

‧Directions : Apply to the shoulders, neck, chest and back. Inhale the scent from the remaining lotion in your hands and go to bed.

‧Product is fresh for : 3 years if unopened.

‧Expiration Date:See under the folding box.

‧Note: The lotion is prohibited to apply before driving or those people who are nengaged in machinery, transporting or dangerous job.

‧Country of origin : Taiwan

---

WELLNESS CONCEPT ENTERPRISE CO., LTD., named after the vision of the Company " Sincerity in recipe, kind with heart, and health to the world", was incorporated in 2004. The Company is branding as "Wellness Concept", focusing on various aspects of health industry.


---

The following are your options:
(A) Enter a contract for a specific quantity of the product and for exclusive rights to sell the product within a specified area. Specific terms of the contract are to be determined upon negotiation.

(B) Order a specific amount of product and we can print our brand's label on the product's container or we can print your brand's label on the product's container. OEM , ODM. This option is subject to minimum purchase requirements that are to be determined upon negotiation.