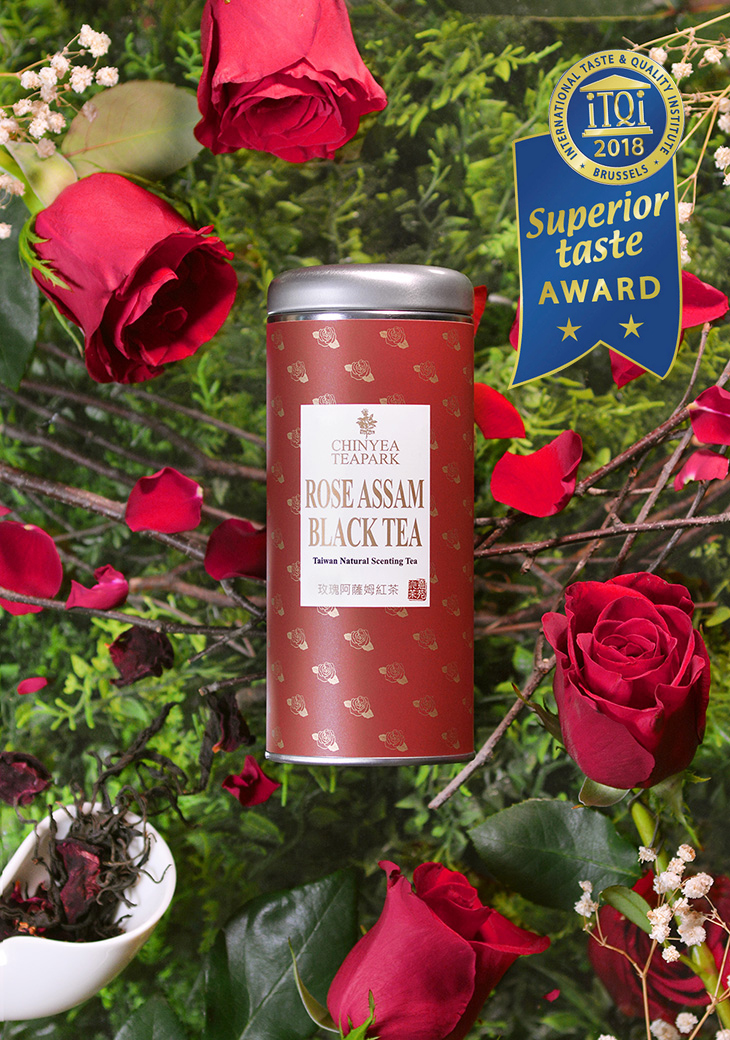 Congrats!!
We won iTQi 2018 the Superior Award! This Rose Assam Black Tea is undoubtedly our proud, and thanks iTQi for acknowledging, and thanks all the customers for loving it!


Blending with rose petals, this naturally scented tea packs a punch in both aroma and flavor, and has delighted tea drinkers for generations.
Assam tea from Yuchi, Nantou (南投魚池), Taiwan absorbs the perfume of rose from a natural framing flower garden in Pingtung (屏東). Resisting using artificial flavors, we scent tea only by using fresh flowers. Blossom that was non-detected throughout several pesticide tests imparts a unique litchi and elegant floral fragrance. Aromatic petals give the black tea an intoxicating aroma.
Premium hand-picked black tea from Sun Moon Lake, called Assam Tea (Taiwan #8)
TTES NO.8 is a tea breed that was improved from the variety called Jaipuri from India. It was propagated by TRES (Tea Research and Extension Station), and are then planted at latitude 38° 5' , altitude of 800m in Sun Moon Lake (日月潭) in Yuchi, where has fertile soil, proper temperature, humidity and moisture, prefect environment for planting black tea all in all.
In the same manner as the rose we select, the Assam tea was also planted in a pesticide-free garden. Unlike the cheap as chip black tea, you don't need to worry about astringency in our tea. Malty and fruity aroma dominates the tasting note, and the texture of liquid is notably thick and sumptuous, with a clean sugarcane sweetness that coats the tongue evenly and has a long-lasting aftertaste

Premium rose variety which imparts Lychee scent comes from Pingtung.
We select fresh Roses which are planting in a large flower farm without using pesticide. As a result of basic principle of both tea and rose gardens, which mean natural farming, the data from SGS pesticides test shows non-detected with 470 pesticides.


You can see a circle of red state along the cup after drinking, this is because of anthocyanins from roses, and it contains merits for health and beauty.



Hot Brew
Small teapot of 200 ml
(1) 5 grams of tea leaf into teapot with 150ml of boiling water;
(2) First brew for 90 secs. Second brew for 60 to 90 secs; extend 10 to 20 sec after each brew. (Can be re-brewed for 5 to 6 times)
Easy Brew
(1) 5 grams of tea leaf into teapot with 350ml to 500ml of boiling water.
(2) First brew for 3 minutes. Extend 1 to 2 minutes after each brew. (Can be re-brewed 3-4 times)
Cold Brew
(1) 5 grams of tea leaf into teapot with 350 to 500 ml of cold water.
(2) Storage into refrigerator for 6 to 8 hours or until the liquid becomes golden yellow.

Product: Rose Assam Black Tea
Ingredient: Rose, Black Tea (hand pick) (Taiwan #8)
Origin: Taiwan, Nantou, Yuchi
Type: Loose
Valid period: 2 years
Note: Please tighten the bag to avoid air exposure, or it'll increase the chances that tea absorbs moisture and odors. Store in a dark cabinet or completely opaque container, and avoid storing tea in humid areas. Sealed in a refrigerator can extend the time of preservation. (Can be stock over 2 years if be kept in a good status.)