Health Supplement, L-arginine and Cordyceps Cereals Powder
L-arginine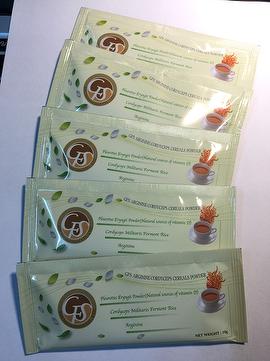 L-arginine is a chemical building block called "an amino acid." It is obtained from the diet and is necessary for the body to make proteins.
Function :
L-arginine is used for heart and blood vessel conditions including congestive heart failure (CHF), chest pain, high blood pressure, and coronary artery disease. L-arginine is also used for recurrent pain in the legs due to blocked arteries(intermittent claudication), decreased mental capacity in the elderly (senile dementia), erectile dysfunction (ED), and male infertility.
Usage :
Some people use L-arginine for preventing the common cold, improving kidney function after a kidney transplant, high blood pressure during pregnancy (pre-eclampsia), improving athletic performance, boosting the immune system, and preventing inflammation of the digestive tract in premature infants.
-------------------------------------------------------------------------
Cordyceps
Cordyceps, also name as Caterpillar Fungus, Caterpillar Mushroom, and Dong Chong Xia Cao, is a fungus that lives on certain caterpillars in the high mountain regions of China. Natural cordyceps is hard to get and may be expensive. Most supplements are made with cordyceps grown in a laboratory.
Usage :
Cordyceps is most commonly used for kidney disorders and male sexual problems. It is also used after a kidney transplant. It is also used for liver problems, improving athletic performance, and many other conditions but there is no good scientific evidence to support these uses.