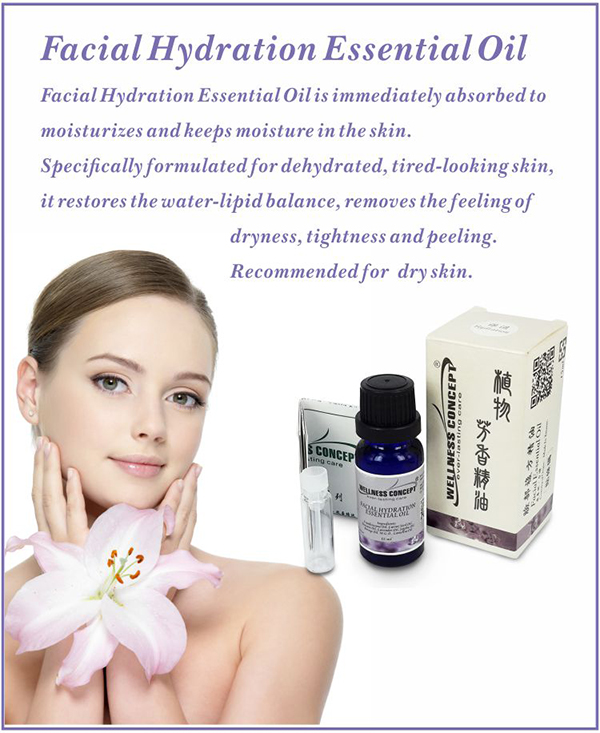 Ingredients:
Frankincense Oil, Carrot Seed Oil, Jojoba Oil, Borage Oil, Camellia Oil
Size :
15 ml/bottle
Features:
the nutrient of skin , essential oils, facial oils, non-greasy, face care, Made in Taiwan
Introduction:
Essential oils for facial only has the effect of hydrating, firming, whitening and dull improving, moisturizing, anti-aging and wrinkle smoothing. It is able to form a protective film and maintain skin healthy. The ingredient contains plant extracted oil and base oil from refined of plant. It is also the nutrient of skin to make your skin full of fragrance and brightness. Different types of skin has different timing to show the effects.
FACIAL HYDRATION ESSENTIAL OIL:
It helps to increase skin hydration, eliminate dryness and improve skin elasticity.
The generous texture is immediately absorbed by the skin which is perfectly moisturized.
Preservation:
(1) For pour out essential oil, do not re-pour back to avoid pollution caused by deteriorayion and damage.
(2) Please wipe the bottle lip and tighten bottle cap securely after use to avoid contact air. After opening and the oil has not used up for long period of time, please use alcohol to wipe the bottle lip if greasy smell comes out.
The following are your options:
(A) Enter a contract for a specific quantity of the product and for exclusive rights to sell the product within a specified area. Specific terms of the contract are to be determined upon negotiation.
(B) Order a specific amount of product and we can print our brand's label on the product's container or we can print your brand's label on the product's container. OEM , ODM. This option is subject to minimum purchase requirements that are to be determined upon negotiation.