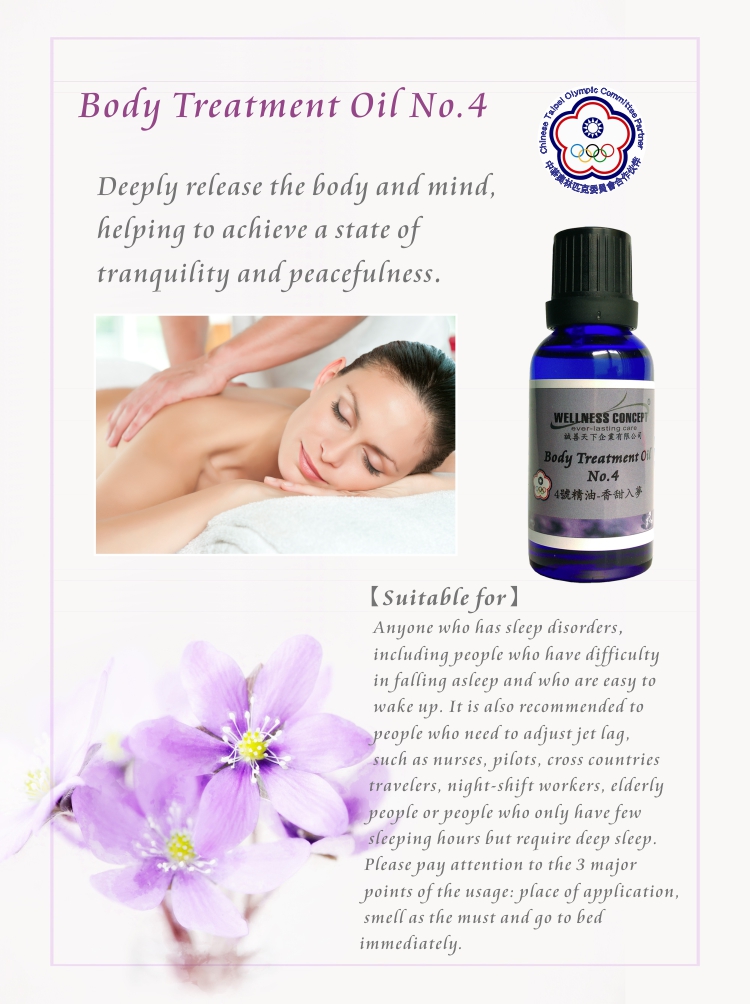 Chinese Taipei Olympic Committee partners
Using the aromatic conditioning method of plant essential oils, the skin can be quickly absorbed by massage skin, soothing the pressure of the skin, extracting the fragrant smell of flowers and leaves to relax, keeping the mood happy and falling asleep in the sweet smell.



‧Main Ingredients :

Lavender Oil, Roman Chamomile Oil, Vetiver Oil …



‧Quantity :

100 ml/ bottle, 30 ml/ bottle



‧Suitable for :

Recommended to those people who have difficulty in falling asleep and who are easy to wake up, to people who need to adjust jet lag.



‧Directions :

Take an appropriate amount of essential oil in your hands and rub it on your neck, chest, back, soles or whole body, and deeply sniff the remaining aromatic oils in your hands to let the aroma stay with you (the oil is enough).



‧Product is fresh for :

4 years if unopened.



‧Expiration Date:

See under the folding box.



‧The precautions:

Avoid eyes, mouth, lip, wound position, should be stored in dry, cool and dark places where children are not able to access.



‧Country of origin :

Taiwan
WELLNESS CONCEPT ENTERPRISE CO., LTD., named after the vision of the Company " Sincerity in recipe, kind with heart, and health to the world", was incorporated in 2004. The Company is branding as "Wellness Concept", focusing on various aspects of health industry.

The following are your options:
(A) Enter a contract for a specific quantity of the product and for exclusive rights to sell the product within a specified area.Specific terms of the contract are to be determined upon negotiation.
(B) Order a specific amount of product and we can print our brand's label on the product's container or we can print your brand's label on the product's container. OEM , ODM. This option is subject to minimum purchase
requirements that are to be determined upon negotiation.


【Video】